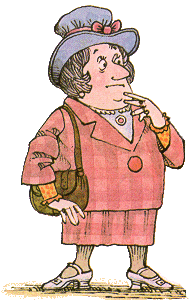 Mrs Griffiths is the chair-person of the Antiquarian Society who came to investigate the reports of a flying Dragon. 
A sceptic at heart, she doesn't believe in dragon nor Railway Engines that talk.
Idris was scared of being discovered an d sent to the zoo, but when she talked to Jones the Steam about Dragons, as a result of his inability to lie he told her everything about Idris and asked Ivor to confirm what he'd said. Ivor didn't respond, after repeated tries, so Mrs Griffiths concluded Jones the Steam was insane.
Later, when the Smoke Hill started to go cold and endanger the lives of the dragons, Jones sought her help. She wasn't too pleased to see him, as she still thought he was quite mad. Luckily he had Idris with him and Ivor at last talked.  When she saw Idris, she was overcome with joy as she has waited to meet a dragon all her life.
Jones explained the predicament about Smoke Hill going cold, so she leaped into action and arranged for the Antiquarian Society to install a coin operated gas meter. It piped gas into Smoke Hill, which kept it nice and warm for the dragons.
When Jones told her that the gas meter for the volcano was not accepting legal tender, she told him that their was an effort by everyone to save fuel and that the Antiquarian Society would debate whether the maintenance of a volcano, powered by gas, was an economic use of natural resources.
When she saw the dragons attack a statue of St George (as they thought it was killing a dragon), she shrieked at the top of her voice how horrible they were, and that they were a risk to life and property. Immediately she made the decision that they would no longer maintain the gas meter for these dangerous creatures, who would now be caged and housed at the national museum in Rhondda. Even when Mrs Griffith was told that no real damage had been made to the statue, she followed up her threat to capture the dragons. Luckily the dragons had fled Smoke Hill and moved to a secret location.