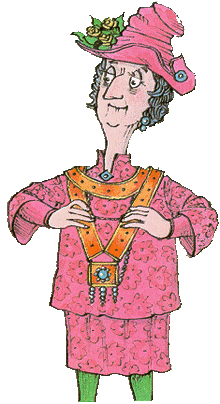 Mrs. Porty is in her own words a "very rich and extremely silly" lady who could be considered a typical English eccentric.
She lives in the big house beside the railway line and is known to be fond of her donkey, Bluebell who often pulls her around in a cart. 
She is known for being the owner of numerous creatively designed hats, which are sent from London.  Mrs Porty once wore a telescope cover on her head thinking it was her new hat from London. This was a result of a mistake she made in collecting the wrong parcel at the station one evening. 
Mrs. Porty is also known to more than occasionally take a glass or two of her namesake...port.
Once Mrs. Porty has her mind set on an idea, she is determined to follow it through. In episode 12, Buying Stuff, she set off to see Mr Williams, the owner of the Railway, to quite forcefully inform him that she was going to buy the whole thing to save it from nationalisation. She produced her cheque book, made one out for a considerable amount of money, and bought it then and there. The Railway was preserved and everyone was happy, especially Ivor and Bluebell.