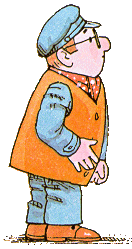 Edwin Jones, more commonly known as Jones the Steam, is Ivor's driver. He is a cheerful and kind-hearted man who perhaps sympathises more than most railway staff with the engine's idiosyncrasies. Postgate and Firmin (The Creators of the Series) describe him as "an ordinary engine driver who is there to cope with whatever needs to be coped with". People who are new to the area find him rather eccentric for talking to his engine. In fact, he has worked with Ivor for so long that he can translate any whistle that Ivor makes, and then tell it to the less informed people around, such as Dai Station. His brother in law is Evans the Song.
When not driving Ivor or helping the engine with his latest flight of fancy, he enjoys fishing and day-dreaming.
Ad blocker interference detected!
Wikia is a free-to-use site that makes money from advertising. We have a modified experience for viewers using ad blockers

Wikia is not accessible if you've made further modifications. Remove the custom ad blocker rule(s) and the page will load as expected.