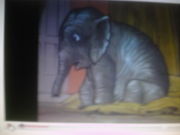 Alice
is a young, female Indian elephant.
She likes to wander off from Charlie Banger's Circus, much to the dismay of her keeper Bani Moukerjee
She was once found by Ivor, Jones the Steam, and Evans the Song suffering from an injured foot. which was was soon cared for by the vet. She doesn't like taking medicine, so Jones and Evans first tried burying her pills in bread and then hiding them in lettuce using a cardboard tube and a china plate. Nothing worked until her keeper arrived. Bani instructed her to show her foot to them so it could be bathed, dressed and fitted with a protective boot. She was in a bit of trouble for her disobedience, but apologized and all was forgiven.
Alice has befriended Ivor, whom she later helped when he was stuck in the snow. She has even entered a Sheep Dog Trial (there was nothing in the rules to stop her). Bani didn't think it dignified for an elephant to enter a Sheep Dog Trial, and she initially scared the sheep over the hill. Eventually she got around them and herded them back and though all the gates. It was amazing; the judges thought so too, and awarded her 1st prize.